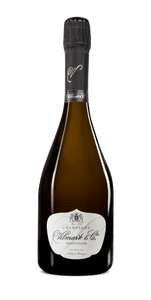 Blending composed of 70% Chardonnay and 30% Pinot Noir classified Premier Cru
Disgorgement April 2022
Aging Process: 10 months in large oak casks
No Malolactic Fermentation
Dosage 8 g/l
Tasting Notes:
The pale lemon shade with golden and green highlights is shimmering and luminous. This wine develops a fine, elegant and long-tasting mousse.
On the first nose, the wine reveals white flower aromas (honeysuckle, lilac), citrus notes as well as fresh butter and cream. After airing, as it is getting warmer, this Champagne exhales another spectrum of aromas. The wine reveals spicy notes of ginger, lemongrass, which were unsuspected until then. The beautiful quality of the acidity (present throughout the tasting) is especially remarkable. The frank vinosity of the wine (roundness and alcohol) gives an impression of strength and freshness. The wine appears both broad yet tight. These various sensations produce a pure, creamy and silky textured wine.
The finish is clean, slightly mineral and long. The last aroma is the grapefruit. The impression will be remembered as a harmonious, healthy and vibrant wine.
 Wine and Food Pairings: 
This wine pairs well with soft and creamy in texture meals. Fish such as sole or turbot with a mild sauce, fine crustaceans such as prawns or oysters are suggested. This champagne can also be tasted for aperitif.
About Vilmart & Cie:
Region: Montagne de Reims
Premier cru sites in Rilly-la-Montagne and Villers-Allerand
Total vineyard holdings: 11 hectares
Annual production: 8,500 cases
Vines: 60% chardonnay, 36% pinot noir, 4% pinot meunier
Vilmart & Cie (RILLY-LA-MONTAGNE)
"Vilmart & Cie. traces its history back to 1890, when it was founded by Désiré Vilmart, and from the beginning, Vilmart & Cie. has always been a récoltant-manipulant, making champagne exclusively from estate-owned vines. Since 1989 the estate has been in the hands of Laurent Champs, the fifth generation of the family to take the helm of the house.
The majority of Vilmart's 11 hectares of vines lie in Rilly-la-Montagne, although there are a few plots just over the border in the neighboring village of Villers-Allerand. Vilmart is a member of Ampelos, an organization that promotes organic and sustainable viticulture, and Champs has never used any herbicides or chemical fertilizers since taking over the estate. All of the vineyards are planted with cover crops and plowed, and Champs enjoys an additional advantage in that his parcels are relatively large—only 12 different parcels over 11 hectares—meaning that he is more protected from contamination by chemical treatments in neighboring plots.