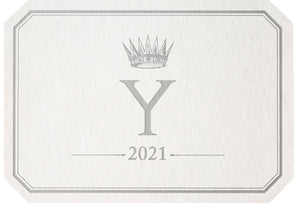 Pre-Arrival and expected to arrive Spring/Summer 2024
Size: 750mL
Bordeaux Blanc: 65% SAUVIGNON BLANC, 35% SEMILLON
Ratings: 
97 James Suckling
"Lime and spicy pear with crushed stone. Kumquats. Smoke and iron.  Kiwi. Full and rounded with bitter pear and steel. Dried limes. Unique minerality. Bright acidity. Touch of sweetness at the end that makes it fascinating."(05/2023)
95 The Wine Independent
"A blend of 65% Sauvignon Blanc and 35% Semillon, with 7 grams per liter of residual sugar, the 2021 "Y" gives up delicate notes of honey-drizzled peaches, lemon tart, and lime leaves, leading to hints of coriander seed and green apples, with a waft of chalk dust. The medium-bodied palate has a wonderfully satiny texture, with crisp acidity cutting through the intense apple and citrus layers, finishing long and zesty."

• Y is a rare wine made from the same astonishing terroir and the same vines as Château d'Yquem. Although work in the vineyard is every bit as meticulous, the grapes are picked and the wine made in a different way.
• By deliberated choice today, certain plots of Sauvignon Blanc are harvested at the beginning of the harvest, making sure to pick one or two perfectly ripe bunches per vine. These are completed by Semillon grapes picked just when the grapes have reached maximum ripeness and Botrytis just appeared, a fleeting stage when skins turned a pinkish colour.
• Light and precise pressing, state-of-the-art vat room set aside just for this wine, ageing of lees in 20% new oak barrels and 80% one-wine barrels from Yquem.
• Sémillon's part is bigger in 2021 with 35% in the blend instead of the usual 25%.
• The 2021 vintage dazzles us with its freshness and aromatic elegance, in a perfect balance between finesse, length, tension and sapidity.