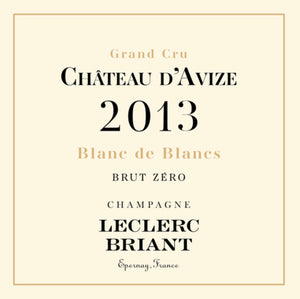 Pre-arrival. Will arrive in Spring 2024
Size 750mL
Epernay, France
100% Chardonnay Grand Cru Côte des Blancs
Disgorgement : April 2023
Dosage : 2.3g/1 (Brut Zéro)
Ratings:
93 The Wine Independent (L. Perrotti-Brown)
"The 2013 Chateau d'Avize Blanc de Blancs Brut Zero is 100% Chardonnay with zero dosage. It sings of lemon curd, spiced apples, and honeysuckle with hints of beeswax, cashews, and chalk. The elegant, refreshing, light-bodied palate delivers delicate citrus and apple layers and a chalky finish."
94 Jane Anson
"The mousse is so soft and plentiful that the entire thing almost melts away in your mouth. Just an excellent Champagne that has real character, more minerality than fruit, moving towards saffran and quince. A more challenging vintage in Champagne than the 2012, but this has the charm that comes with bottle age, with a grilled almond edge, still with citrus and white flower undertones. Beautiful. Hervé Jestin winemaker. Soft 2.3/l dosage, making this Brut Zero. No need to wait longer."
• Maison Leclerc Briant is 150 years old, awaking up since 2012 with new owners
• Chef de Cave is Hervé Jestin, one of the most recognized winemakers in Champagne, specialist of biodynamic viticulture
• Château d'Avize is one of the only 3 domains in Champagne allowed to use the name "Château". 
Any mention of a "Château" is rare in Champagne, because use of the term is quite restrictive, with strict standards such as having a winery and storage unit in the place where the vines are planted. Leclerc Briant was the first Champagne estate to practice biodynamic viticulture. This precision viticulture is skillfully led by Hervé Jestin, the House's cellar master and a leading figure in organic farming and biodynamic viticulture in Champagne.

• 2,5 hectares single vineyard in Grand Cru (Avize) appellation in Côte de Blancs
• 100% Chardonnay (Blanc de Blancs), 100% oak aged during 10 months & 9 years on lies
• 10 000 bottles production for the 2013 vintage
• Only first press used for this cuvée
• Brut Zero
• 2013 is Château d'Avize second vintage, from a challenging growing season emerging as one of the most underestimated vintages of the last 15 years
• Fruity and juicy substance, bright lemony acidity, intense chalkiness, salinity and suave finish
We are pleased to offer the 2013 vintage of Château d'Avize. The Champagne House Leclerc Briant, owned by an American couple, Mark Nunnelly and Denise Dupré, will release the second vintage of Château d'Avize, a new cuvée (2,5 hectares only).
"The 2013 vintage embodies the power and depth of the Grand Cru in the filter of a vintage marked by an almost perfect balance of grapes and wines."
Eye: The pouring of the champagne generates light and ephemeral foam.  The champagne has a luminous, satin-like and fairly fluid pale yellow gold color.
Mouth:  The first contact is supple and The Champagne develops a fruity, coated and juicy substance, supported by a lemony acidity. The salinity and dryness enhance a rich and suave finish.
Nose:  The freshness of a lime accompanied by notes of grilled almond, blossom and verbena.  A few moments of patience gratify you with the scent of pistachio, warm biscuit, pear, acacia honey or elderberry.
Pairings: Perfect with crispy prawns with lime, sweet curry sauce, or sautéed langoustine, vegetable risotto and cream.