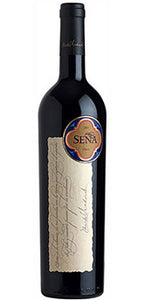 Expected arrival in Spring/Summer 2024
Aconcagua Valley 2021 - Aconcagua - Chili
A 42-hectare vineyard that gained biodynamic certification 15 years ago.
Blending : 50% Cabernet Sauvignon, 27% Malbec, 17% Carmenere, 6% Petit Verdot
Aged for 22 months in oak barrels – with a proportion of the wine in 2,500-litre "foudres" (10%).
First wine of the Aconcagua Valley to reach 100 points – in May 2017 – James Suckling.
Reviews:
100 Suckling
"An extremely pure and elegant vintage for Seña. This is really fresh, nimble and floral on the nose with subtle cherries, plums, redcurrants and wild lavender. More red fruit here with lots of layers and just a touch of sweet spice. Very discreet and subtle, with the elegance, freshness and poise you'd expect from 2021. Medium- to full-bodied on the palate with a bit more flesh and depth if you compare it with Roca de Seña, their second wine. The impeccable tannins show the supreme quality of the fruit this year. Persistent, seamless finish, but comes in a subtle way. 50% cabernet sauvignon, 27% malbec, 17% carmenere and 6% petit verdot. Effortlessly drinkable now, but it will age beautifully."
98+ Wine Advocate
"One of the finest vintages of the iconic Seña wine, the 2021 Seña comes from a cooler year, following the path of 2016 and 2018, certainly cooler than 2020 and 2019. It has a super expressive nose that is elegant, nuanced, perfumed, subtle and pure, with aromatic finesse, layered and complex. It was picked a couple of weeks later than in the previous two years and still keeping the alcohol below 14%. It was produced with a blend of 50% Cabernet Sauvignon, 27% Malbec (cooler years with more), 17% Carmenere and 6% Petit Verdot, fermented mostly in stainless steel and 10% in oak foudre. It's fine-grained and structured but juicy, similar to 2018 but with more finesse. It has the spicy/herbal twist from the Cabernet, ultra-refined tannins that give it great elegance and with length, purity and delineation. Superb! It was bottled in February 2023. - Luis Gutierrez"
97 Decanter
The moderately cool conditions of the year have produced an intensely fragrant and concentrated wine on the nose - this smells powerful and expressive. Smooth, silky and seductive with crystalline, succulent and ample fruit - blackcurrants, cherries and strawberries, but mostly black fruit, with clear menthol, clove, cocoa and a liquorice tang. Bright and lifted, this has clear personality and such a stylish execution. Full and round, forward and intense, but delivered with poise. A delicious wine with so much to like not least the exceptional acidity coupled with the depth and width giving a complete wine with intensity and refinement. Everything feels carefully considered but still giving flavour and verve. Ageing 22 months, 90% French oak barrels (70% new), 10% in foudres. A blend of 50% Cabernet Sauvignon, 27% Malbec, 17% Carménère and 6% Petit Verdot completes the blend. Winemaker Francisco Baettig"
96 Vinous

"The 2021 Seña is mostly Cabernet Sauvignon with 27% Malbec, 17% Carménère and 6% Petit Verdot from Ocoa in the Aconcagua Valley. It was aged for 22 months, 90% in French oak barrels (70% new) and 10% in foudres. Purple with a garnet sheen. The nose presents vivid redcurrant and blackcurrant notes with a layer of garrigue against a cigar box backdrop. Dry in the mouth, refreshing acidity stirs up finely grained tannins to channel the palate. A lingering, fruity red that will grow in the bottle. -- Joaquín Hidalgo"
95 Wine Independent
"The 2021 Sena is a blend of 50% Cabernet Sauvignon, 27% Malbec, 17% Carmenere, and 6% Petit Verdot. Deep garnet-purple in color, it rolls out of the glass with lively notes of redcurrant jelly, blackcurrant pastilles, and dried sage, followed by touches of graphite and black olives. The medium-bodied palate is charged with energetic black fruits, with loads of savory accents and ripe, grainy tannins, finishing long and refreshing. - Lisa Perrotti-Brown"
95 Jane Anson
"Toasted spices, dried herbs, with the red fruits, violet, black olives and cola of Malbec. Delivers tension and freshness, great balance, with weight and concentration through the mid palate, climbing upwards to a juicy finish. Cooler than average vintage of Sena, and an unusual one, with a harvest spread from late March with the Carmanère right until early May for the Petit Verdot (the last time they went this late would have been the 2016 vintage). Unobtrusive tannins that build slowly but surely, needs some time in the bottle before drinking. 70% new oak, 10% 2,500 litres oak casks. Francisco Baettig winemaker."