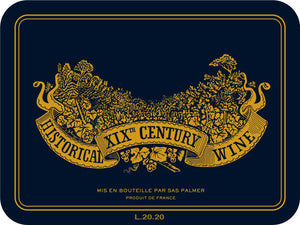 size 750mL
In the XIXth Century, it was a common practice of the time for Bordeaux vintners to "hermitage" their wines, adding a certain quantity of wine from the Rhône - notably for the Hermitage region - whose Syrah would strengthen the structure and power of the claret. 
In the XXIst Century, Château Palmer came up with the idea of bringing this forgotten tradition back to life with the renaissance of Palmer's own hermitagé, the Historical XIXth Century Wine. 
A unique wine, based on a blend of emblematic parcels of Château Palmer to which is added, in a moderate proportion, a great Syrah wines from the Northern slopes of the Rhône Valley - the origin of which is kept secret by Thomas Duroux.
10th vintage since 2004.
A distinctive blend with Petit Verdot for the first time instead of Merlot.
44% Cabernet Sauvignon, 44% Petit Verdot, 12% Syrah from Northern Rhône
Wine in stock!