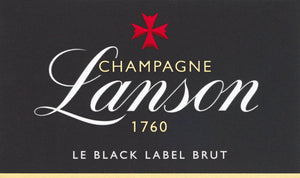 Winemaker Notes
Black Label's brilliant color recalls the characteristic straw tones of the Pinot Noir, with glints of amber. It is lively in the flute, with a fine stream of persistent bubbles. Its fresh aromas combine the impression of vitality and spring-time scents, together with hints of toast and honey. On the palate, bouquets of ripe fruits and citrus create a sensation of opulence yet lightness.
"This classic nonvintage cuvée has a dominance of red grapes. A rich wine, it shows dryness as well as balanced acidity and ripe spice. It is easy to enjoy and ready to drink."
"50% Pinot Noir, 35% Chardonnay and 15% Meunier from 100 villages in all, and including 30% reserves from 10 vintages back to 1995; a small proportion now being produced with malolactic. Black Label remains the confident barometer of Lanson, and Hervé Dantan's first blend is a class act, a resounding statement of his talent in preserving the style and integrity of the house while meticulously polishing the edges. It's a very important cuvée in the grand scheme of Champagne: one of the best and most consistent of the bargain set."
92 James Suckling
"A fresh, balanced palate with green apples, pie crust and pears. Medium body, fine bubbles and a crisp, dry finish. Nice center palate. Four years on the lees. Drink now."