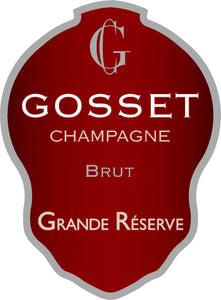 Winemaker Notes
The color is bright and golden, the nose open and expressive, and the palate is dominated by a refreshing mineral tension.
"This is the true signature of the House. An expression of the Gosset style, which I  have been maintaining for 30 years." Jean-Pierre Mareigner, Cellarmaster
Suggested Pairings: This champagne is the perfect accompaniment to mild and subtly spiced dishes with cooked fruit, sweet/savory dishes or tajines. A blend of three vintages, the Grande Réserve Brut is adaptable by nature — from apéritif to dessert.
Reviews
94 Decanter
"The nose opens with the fresh ripeness of yellow apple and highlights of Granny Smith. It has beautifully subtle autolysis on the palate, deepening into notes of creamy apple crumble, Golden Delicious and Mirabelle plum, while remaining utterly strait-laced. Elegance, length and absolute freshness are inherent and quietly convincing."
93 Wine Spectator
"Sleek, with a vivid backbone of acidity well-meshed with flavors of black cherry, lemon curd and toasted brioche. Lightly plush and creamy texture, with hints of smoke, candied ginger and honeycomb on the finish."