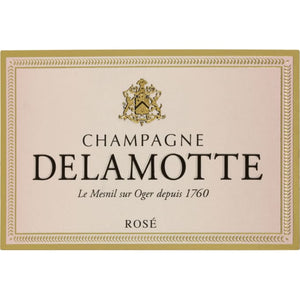 Size: 750mL

Winemaker Notes
The balance between the dominant Pinot Noir and the smaller percentage of Chardonnay in the Delamotte Rosé gives this wine its beautiful pale rose color. The wine has tiny bubbles with strong red fruit aromas and flavors. It is vivacious, supple and round with a hint of acidity.
It makes a wonderful aperitif, as well as a good companion to poultry dishes or red fruit desserts.
Reviews:
"An amber-colored rosé with aromas of cherries, praline, dried flowers and some spiced plums. Gastronomic and flavorful, with a medium to full body and dry, spicy and smoky elements. Tight bubbles."
"A crisp Champagne veering towards dryness, this is textured, with a touch of red fruits set alongside the citrus flavors. The wine is so fresh, so light and poised. Drink the bottling now."
"From the base vintage of 2019, the NV Champagne Brut Rosé is Chardonnay with the addition of 12% still red wine of Pinot Noir from Bouzy, Tours sur Marne, and Ambonnay. There are 8 grams per liter of dosage added. Light pink in color, the nose is savory with blood orange peel, quinine, and fresh peach, and the palate is dry, floral, and lightly saline. The Chardonnay drives the character of the wine with a focused structure and chalky texture. This would be a wonderful aperitif or to have with raw preparations such as sushi. Best after 2022."