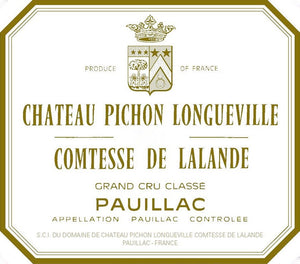 Bordeaux Futures 2022 estimated arrival Summer 2025
 Appellation: Pauillac
Size: 750mL
Ratings: 
96-99 Antonio Galloni for Vinous
"The 2022 Pichon-Longueville Comtesse de Lalande is magnificent...a super-classic wine that emphasizes mid-weight structure, aromatic presence and persistence more than size. Sweet floral, savory and mineral accents run through a core of ripe, racy red-toned fruit. All the elements are so well balanced."
98-99 James Suckling
" I love the aromatics here with botanicals as well as currants, blackberries and oranges. Full-bodied with incredible tannins that build on the palate with finesse and focus. Featherlight but always there. Stealth in structure. Very vertical. Savory. Superb. 78% cabernet sauvignon, 17% merlot and 5% cabernet franc."
97-99 Wine Advocate
"The 2022 Pichon Longueville Comtesse de Lalande is one wine where a comparison with this estate's magical 1982 doesn't appear to be far-fetched. Wafting from the glass with deep aromas of cassis, plums, violets, rose petals, tobacco leaf and pencil shavings, it's full-bodied, supple and fleshy, with a layered, seamless core of fruit that largely conceals its chassis of powdery structuring tannin. Concluding with a long, expansive and beautifully perfumed finish, it's a blend of 78% Cabernet Sauvignon, 17% Merlot and 5% Cabernet Franc that has the potential to equal or even surpass the 2019 and 2016 vintages at this address. It checks in at a very classical 13.6% alcohol and a rather high pH of 3.80. (WK)"
98 Decanter
" One of my favourite wines from 2022, utterly seductive from the first sip, this is a stunning effort that shows the power of Pauillac in 2022 delivered with elegance and class. Heavily scented on the nose, full of dark fruits, savoury notes of salty chocolate and floral scents. Smooth and so appealing in the mouth, the texture stands out, deep and rich but soft and chalky, tannins have a subtle powderiness that spreads the mouth, cooling and refreshing giving the minerality while the cool black and blue fruits linger in layers expanding vertically. This is so refined and polished - it's serious no doubt, not super fun, but it doesn't need to be, it's rich and sumptuous with sweet blue fruits balanced by high acidity that keeps the focus and energy. Bright, bold, well worked, clean, crystalline and pure. Somehow delicate and punchy at the same time. A mind-blowing wine that you just have to marvel at with intensity, brightness and vibrancy, building as it goes. A long, clean finish leaves you wanting more, salivating for that next sip. 3.8pH. A potential 100-point wine. 3.8pH. 50% grand vin. (GH) "
97-100 Jeb Dunnuck
" One of the gems from Pauillac is unquestionably the 2022 Château Pichon-Longueville Comtesse De Lalande, which is 78% Cabernet Sauvignon, 17% Merlot, and 5% Cabernet Franc. A hypothetical blend of the 2019 and 2020, it's a full-bodied, concentrated, opulent Comtesse offering beautiful blue fruits, some chocolate, leafy herbs, and undeniable minerality, ripe, velvety tannins, and a great finish. Despite the higher Cabernet Sauvignon component, this stays silky, expansive, and incredibly sexy. It's going to be drinkable with just 4-5 years of bottle age but should have a lengthy drink window. Hats off to director Nicolas Glumineau for another legendary wine from this château."
Important information to note:
Given the recent lifting of tariffs, 2022 Bordeaux Futures are offered assuming no charges due to tariffs.  Should tariffs be in place at the time the of importation into the US, added costs as a result of the tariffs will be the responsibility of the buyer.