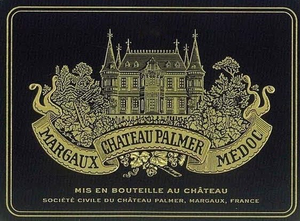 Bordeaux Futures 2022 estimated to arrive Summer 2025
Appellation: Margaux
Size 750mL
Blend: 51% Cabernet Sauvignon, 45% Merlot, 4% Petit Verdot
Ratings:
"So much class in the nose with a sophisticated kaleidoscope of dark fruit such as blackcurrants, and spices such as salt and pepper, as well as cloves and nutmeg. Full-bodied. Compacted and dense yet weightless. It opens beautifully. The tannins go on and on with wonderful presence. Salty undertones."
"The 2022 Château Palmer is utterly brilliant, so much so that I questioned in my notes if this would challenge the 2018. A blend of 51% Cabernet Sauvignon, 45% Merlot, and the rest Petit Verdot, from tiny yields of 22 hectoliters per hectare, its mammoth-sized personality offers layers of blue and black fruits, notes of melted chocolate, crushed stone, and spring flowers, building, velvety tannins, and a great, great finish. While many estates commented that they extracted less in the vintage, Palmer went in a different direction and extracted more during the vinifications to provide a solid backbone to match the concentration and power of the vintage. It appears to have worked brilliantly, and hats off to Thomas Duroux for having the confidence to go his own path. He has produced a truly Grand Vin in 2022. The alcohol here is a normal 14.4%, and the pH is a healthy 3.79."


"The 2022 Palmer is a wine of sublime beauty and refinement. Silky, caressing and super-expressive, the 2022 is also one of the most surprising wines of the year in that it does not show the drought or heat of the growing season at all either in its flavor profile or feel. Succulent black cherry, plum, leather, licorice, spice and dried herbs lend notable complexity throughout. The 2022 starts off rather slow, and then really explodes on the back end. It is a magnificent wine in every way."


"As is the case at neighbor Château Margaux, the 2022 Palmer is one of the most powerful wines this estate has ever produced. A blend of 51% Cabernet Sauvignon, 45% Merlot and 4% Petit Verdot, it offers up aromas of blackberries, burning embers, violets, iris and sweet soil tones, followed by a full-bodied, broad and expansive palate, its velvety attack segueing into a rich and layered core. Supple, seamless and concentrated, it checks in at 14.4% alcohol and a rather high pH of 3.79."


"Sharp, energetic, racy and electric. The power and concentration is evident in the dark, rich, concentrated fruit with tannins that grip and take hold with a crushed stone texture, liquorice, graphite, tobacco and cool mint spice. The expression is exceptionally delineated with focus and push from start to finish. Quite bold and charged, but I love the succulence, the perfumed fruit, chalky sensation and overall sense of confidence. In high definition in terms of sharpness and tang to the fruit. A big wine but delivered with poise."
Important information to note:
Given the recent lifting of tariffs, 2022 Bordeaux Futures are offered assuming no charges due to tariffs.  Should tariffs be in place at the time the of importation into the US, added costs as a result of the tariffs will be the responsibility of the buyer.