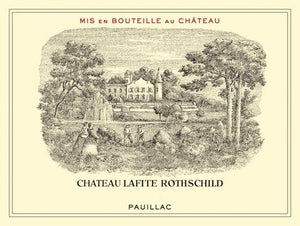 Bordeaux Futures 2022 estimated arrival Summer 2025
 Appellation: Pauillac
Size: 750mL
Ratings:
99-100 James Suckling
"A classical Lafite that reminds me of something like the 1986, with its blackcurrant and tobacco character with cedar and hazelnut, but it's so today with its purity and precision. It's really about being Lafite here. Terroir gives great elegance with strength."
97-99 Jeb Dunnuck

"The 2022 Château Lafite-Rothschild is based on 94% Cabernet Sauvignon, 5% Merlot, and 1% Petit Verdot that was harvested between the 31st of August and the 24th of September. It's a richer, more opulent wine compared to the more classic 2020 (although the pH is higher in the 2020) and has a deep, full-bodied, concentrated profile as well as classic Lafite aromatics of spicy red and black fruits, freshly sharpened pencils, graphite, and tobacco. Deep, rich, and concentrated, it nevertheless stays pure and flawlessly balanced, with ample, ripe tannins and a great finish. It's going to have some up-front appeal by Lafite standards but should still require a decade of bottle age. Director Eric Koher compares this to the 2005, but this modern-day clone of the 1959 is one of the most powerful, concentrated Lafites I've tasted."
96-98 Antonio Galloni for Vinous
"The 2022 Lafite Rothschild is shaping up to be one of the wines of the vintage. All of the Lafite signatures are present, but what impresses most about the 2022 it its poise, its stature. Readers will find a regal, statuesque Lafite built for serious aging. There's tons of fruit and tannin, all masterfully put together. A modern-day classic."
95-97 Wine Advocate
"A blend of 94% Cabernet Sauvignon, 5% Merlot and 1% Petit Verdot, the 2022 Lafite Rothschild unwinds in the glass with aromas of dark berries, cassis, sweet soils tones, cigar box and lilac. Medium to full-bodied, it's the most tensile of the first growths this year, with a layered, concentrated but youthfully introverted mid-palate, lively acids and a long, saline finish. It checks in at a rather high pH of 3.85, which belies its incisive profile, from a harvest that extended from August 31 to September 24. (WK) 95-97+ ."
98 Decanter
"A wonderful example of restraint and delicacy in a year where it was easy to overdo. Sharp and straight, you feel the acidity as soon as this enters the mouth, alive, pulsing, bright and shining. Aromatically so expressive after a few minutes. Delicate almost, such a fine tapestry of tannins, present and at the fore but like taffeta or finely woven silk. It has power but you don't feel it, not instantly anyway, the focus is on the beautiful texture with edges of cool red and blue fruits, flint, graphite, liquorice and tobacco nuances with high acidity that all help build a layered and well constructed mid palate. The structure then focuses and narrows to a mineral, fresh finish. Has bite and succulence, gently muscular with tons of vibrancy. This is definitely one of the less showy wines that really grows on you. A delicious, defined, poised, refined and finessed Lafite. Calm, collected and incredibly charming already. Earliest harvest in over a century, 31 August to 24 September. 17.5% press wine. 3.8pH. 64IPT. 41% grand vin production. (GH)"
97 Jane Anson
"Saturated inky colour, with intense ruby reflections. This is a classically constructed Lafite, with clear power to the tannins and intense spice, a little more upfront and concentrated than you find in many En Primeur vintages at this property but it exemplifies balance and confidence. Fully in control, delivering estate signature with finesse and understatement, with pulses of graphite, slate, bitter almond and cocoa bean. Takes its time to uncurl in the glass, leaving you plenty of time to admire its architecture. Give it a good decade at least. 17.5% of press wine, 3.85ph, 41% Lafite of overall production. Harvest August 31 to September 24, earliest since 1893. 100% new oak, Eric Kohler techincal director. Potential upscore in bottle"
Important information to note:
Given the recent lifting of tariffs, 2022 Bordeaux Futures are offered assuming no charges due to tariffs.  Should tariffs be in place at the time the of importation into the US, added costs as a result of the tariffs will be the responsibility of the buyer.
Shipping charges will be calculated and added at the time of delivery in the summer of 2025.