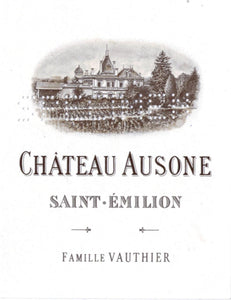 Bordeaux Futures 2022 estimated arrival Summer 2025
Appellation: Saint-Émilion
Size: 750mL
Ratings:
99-100 Jane Anson
" Intense and concentrated, with fennel, aniseed and liqourice root. Where Chapelle d'Ausone celebrates a wave of opulence in the vintage, this focuses more clearly on black tea, slate, intense black chocolate. Precise and well cut, this is creamy and exuberant without sacrificing elegance and balance. Amazing depths of flavour and grip. A true En Primeur sample where you know you are a long long way from this being ready to drink. The first year, incidentally, of not Premier Grand Cru Classé A, although the ranking has not been featured on the label since 2012. No irrigation at Ausone. 100% new oak. Harvest September 5 to 27. 7.25ha. Conversion to organic farming since 2020, Philippe Baillarguet cellar master, Pauline Vauthier owner and winemaker. Potential 100."
97-98 James Suckling
" This is really open with bright and flamboyant aromas of cassis and cherries. Blueberries. Some peaches as well. I don't remember a young Ausone like that. Full-bodied with flamboyant fruit and energy. Very fine tannins. They are there but you don't feel them. Supple but very fruity. And intensely fruity at the end."
96-98 Jeb Dunnuck
"The Grand Vin from this hallowed terroir is an even split of Cabernet Franc and Merlot that was fermented in wooden vats and will spend 20 months in new barrels. Its saturated purple hue is followed by an up-front, sexy, full-bodied Ausone offering a wealth of fruit as well as notes of black cherries, blueberries, chocolate, scorched earth, and an incredible sense of spring flowers. Concentrated and incredibly pure, with silky tannins on the palate, it has the texture and fruit to almost shine even now but should still evolve for 30 years or more."
96 Decanter
" Quite intense nose, strongly perfumed and scented with purple flowers and a mix of red and black fruit. Fragrant with chocolate, tobacco, cedar, cinnamon, crushed stones and liquorice. Aromatically very inviting. Plush and sapid, tannins are ripe but the acidity gives it real tension so you get some intensity of texture and sharpness of fruit on the palate making it a bit serious and tense right now though with lovely detail and lots of precision in terms of tannins and fruit. Mouthwatering acidity is at the fore, really giving some zing and electricity to this while the crushed stones, liquorice and clove spice give the accents around the edges. Clear strength and concentration, such power underneath - you do feel the heat from the alcohol (15.4%!) but the acidity and soft mineral elements help keep the balance and frame though it's not as demonstrably mineral as some years. Acidity does settle and this expands slowly - keeping the linearity and sense of focus but also giving hints to its power and ageability. Sculpted and well delivered, characterful and confident with long ageing potential. Long finish with graphite, pencil lead and toasted spices on the finish. 3.57pH 85% grand vin, 20,000 bottles. Harvest 5 and 9 September for Merlot, 21 and 27 September for Cabernet Franc. A yield of 38hl/ha. Potential upscore in bottle."

Important information to note:
Given the recent lifting of tariffs, 2022 Bordeaux Futures are offered assuming no charges due to tariffs.  Should tariffs be in place at the time the of importation into the US, added costs as a result of the tariffs will be the responsibility of the buyer.