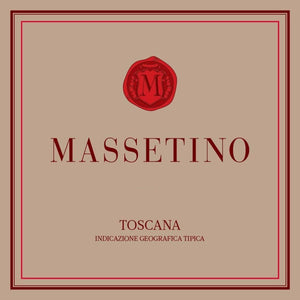 Winemaker Notes:
The high quality potential perceived when tasting the grapes before harvesting is reflected in the qualitative expression of Massetino 2021. A wine characterised by integrity, crispness and brilliant colours. The aromas are immediately memorable for their persistence and fullness. Vibrant, young and evolving tannins keep the palate alive with tenacity. Massetino 2021 is as powerful as the vintage in which it was born.
96 James Suckling
"
Sweet berries with violet and rose aromas. Raspberries. So perfumed. Medium-bodied with very fine velvety tannins that run the length of the wine. Vibrant at the end. Second wine of Masseto. Best ever. Drink in 2027 but already a joy to taste."
"
The Masseto 2021 Massetino is mostly Merlot with a touch of Cabernet Franc for good measure. The wine (packaged in a heavy glass bottle) is very richly concentrated and layered. You see (and taste) the opulent texture of the wine as it slowly coats the glass. Quality fruit is matched by carefully selected oak, and the intensity of both builds on the palate. This vintage is poised for especially long cellar aging. This vintage of Massetino (2021) scores neck-in-neck with the current vintage (2020) of Masseto
."