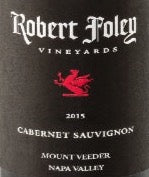 From the Winery:

"Certainly our most feminine Cabernet Sauvignon offering, this very small vineyard nestles high on the mountain among a lush bay-laurel forest.
Candy cherry and menthol notes are evident while the wine balances more like a European cousin, dancing lightly on the palate with healthy acidity. The tannins are super soft and flavors linger long in the super-smooth finish. This is a beautiful example of one of the most successful Cabernets born in high elevation.
 
For the past 16 years, we've been working with a wonderful little Cabernet vineyard on Mt Veeder, surrounded by laurel forests. In 2013, we decided to capture its unique essence by bottling it separately to enjoy its intoxicating aroma -- it was very popular, so we're offering it again with the 2015 vintage.
The personality of the Mt Veeder vineyard receives contributions from the surrounding bay-laurel forest, which complement the cherry aromas with a touch of menthol. The full middle is balanced by gentle tannin and mouthwatering acidity, resolving in a lingering finish."