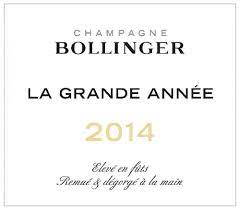 Size: 750mL
La Grande Année 2014 is an assembly of 19 crus, mostly in Aÿ and Verzenay for the 61% Pinot Noir and Chouilly and Oiry for the 39% Chardonnay.
Fermentation takes place entirely in oak barrels and the wine is aged, sealed with a natural cork, for more than twice the time required by the appellation. Dosage is moderate, 8 grams per litre.
2014 Vintage:
A rainy autumn and winter were followed by two very dry and sunny months. Then summer, and particularly August, saw markedly cold weather. However, the quality of the grapes was preserved, and the musts had a wonderful balance of maturity and acidity.
Eye: Tinted with golden glints that reflect the wine's maturity and Bollinger vinification techniques
Nose: A precise and fruity nose with a slight scent of sea-air. Aromas of cherry and lemon mingle with quince and bergamot. Then notes of hazelnut and almond, peach and mirabelle plum complete this wine's range of aromas.
Palate:  The initial sensation is a fine and intense effervescence, followed by a wonderful vinosity, and then balanced with delicate acidity. Its very fine texture and sea-air finish bring excellent length on the palate, accompanied by a delicate minerality and the complex flavours of orchard fruit and citrus. This wine unfurls gradually, revealing its full potential and intensity.
Reviews:
98 Vinous
"The 2014 La Grande Année is stunning. In fact, it is one of the best recent editions I can remember tasting. What comes through most is the wine's sizzling energy and tension, qualities that aren't often associated with Bollinger, where the Champagnes tend to show more breadth and volume. In 2014, readers will find a Grande Année built on linear intensity and drive. The 2014 is a blend taken from 19 villages, 61% Pinot Noir and 39% Chardonnay instead of the more typical 70/30 mix. For the second time in two decades (the first was 2007), Verzenay takes the lead in the Pinots over Aÿ, more or less an inverse from the norm. Verzenay, a north-facing village in the Montagne de Reims that saw less rain than Aÿ and most of the Vallée de la Marne, yields Pinots of energy more than volume. That, married with Chardonnays mostly from the Côtes des Blancs (predominantly Chouilly, Vertus, Oiry and Cramant), results in a truly magical Grande Année that will delight Champagne fans for several decades. I can't recommend the 2014 highly enough. It's a total knock-out. Disgorged: April, 2021. Dosage: 8 grams per liter."
97 Wine Spectator
"Racy acidity drives this mouthwatering Champagne, enlivening the rich panoply of flavors. Features a fine and creamy mousse that's still a lively springboard for aromas and flavors of crème de cassis, glazed tangerine, roasted hazelnut, ground coffee, pickled ginger and white blossoms. Long and satiny, with minerally salt and chalk notes gaining momentum on the lasting finish. Pinot Noir and Chardonnay. Drink now"
"Raised entirely in barrel, the 2014 Champagne La Grande Année Brut is all about finesse and capturing the cool, mineral tension and floral notes of the vintage. Enhancing those qualities, a bit higher proportion of Chardonnay was used for this release, making up 39% of the blend. It pours a pale straw, and it is layered and persistent with lightly toasted pastry, Mirabel plum liqueur, and saline. The palate is dry and more tightly wound at this stage, with driving citrus, a chalky texture, and a light phenolic finish. Subtle undercurrents of honey and butterscotch should continue to evolve beautifully over the coming decades."
"With the hallmark Bollinger richness that is derived from fermentation in wood and a high percentage of Pinot Noir in the blend, this grand wine is ripe, full of apple and spice flavors. It is drinkable now, but still young."
"Offering up complex aromas of crisp yellow orchard fruit, confit citrus, frangipane, walnuts, dried white flowers and subtle hints of iodine, Bollinger's 2014 Brut La Grande Année is medium to full-bodied, pillowy and vinous, with an elegantly fleshy core of fruit that's underpinned by racy acids and complemented by a pretty pinpoint mousse. Concluding with a long, chalky finish, this is a charming but precise Grande Année that's more giving and demonstrative than its immediate predecessor, the 2012, but which attains a very similar level of quality in a more challenging vintage—testimony to the serious viticulture that underpins Bollinger's contemporary excellence. Best After 2021"