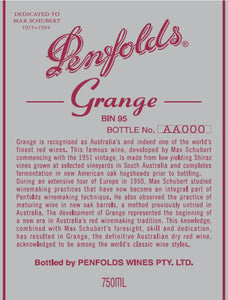 Can be purchased OWC if all 3 bottles are selected at checkout
Reviews:
"Much anticipated vintage for Grange and it is a powerhouse of concentration and complexity. Aromas of orange and lemon peel to start, then graphite, blackberries, plum paste, black cherries, boundless sweet oak spice, fresh cedar, tar, mahogany, roasted coffee and chocolate - the list goes on. Such complexity. Classic Grange, offering such deep, dark intensity. The palate has immense richness and depth with a super succulent and very long, fleshy, deeply weighted array of dense, velvet-wrapped tannins that run so long. The fruit flavors sit in the blackberry, blood-plum and blueberry zone with succulent, long and assertive structure, carrying through in an utterly seamless mode. The finish is tightly wrenched, in spectacularly powerful style, locking this wine in for a very long haul. Best from 2030."
"The flagship 2015 Grange is a monster of wine and one of those rare wines that blends power and elegance perfectly. Revealing a saturated purple color, it's seemingly more forward and seductive than past great vintages, which I suspect is due to the incredible purity of fruit as well as the wine's flawless balance than any change in winemaking or stylistic shifts. I also think the acidity is healthy, and the 2015 tips the scales at 14.5% alcohol, which is certainly in the sweet spot, if not tame, for beautifully ripe Syrah these days. A blend of 98% Shiraz and 2% Cabernet Sauvignon that spent 20 months in new American oak hogsheads, it offers an extraordinary perfume of sweet crème de cassis, lead pencil shavings, camphor, Asian spices, licorice, and wildflowers. This is followed by a full-bodied, powerful yet incredibly seamless and elegant Shiraz that has no hard edges, a big, dense mid-palate, ripe tannins, and a great finish. Coming close to rivaling the 1986, which has always been a benchmark vintage of Grange for me, the 2015 offers a more polished, elegant, approachable style. Vintage comparisons aside, this is a legendary example of Grange in the making. The savvy wine lovers out there will give this 7-8 years of bottle age (I'll probably be out of bottles by then) and enjoy over the following 2-3 decades."
'The nose of the 2015 Grange features the wine's characteristic lifted aromas, joined by pronounced American oak influence and bold blackberry fruit, plus hints of red meat, raspberries, asphalt and vanilla. It's dense and concentrated on the palate, full-bodied yet balanced and firm, with a rich, velvety texture and long, plush finish. Don't expect great complexity at this stage—it's much too young to show much more than the primary fruit and oak elements—but this is a Grange that should easily go three or four decades."

"Based on fruit from Barossa Valley, McLaren Vale, Clare Valley and Magill, and with 2% Cabernet seasoning to the Shiraz, the huge, brooding primary colour of youth is accompanied by the youthful primary black fruit, smokiness and sweet coconut and liquorice-spiced American oak (20 months in new hogsheads) that's so typical of Grange. The richness and concentration of blackberry fruit opulence on the palate is inextricably bound up with a spice- and coconut-infused textural quality whose tannins, while big and bold, are surprisingly soft and sumptuous on the mid-palate. As the super-ripe blackberry and black cherry jam fruit subsides, the tannins kick in, along with a crispness ensuring that - in line with the Grange style generally - this heady wine will benefit from two decades of ageing. Drinking Window 2025 - 2045"