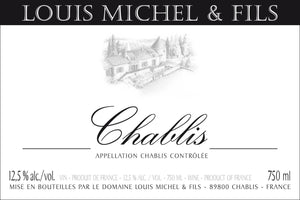 Tasting Notes:
The grapes come from eight different areas, which are mainly located on the left bank of the Serein river, Pargues in the Forêts valley, and Vaillons. They are blended with the parcel located just below the Montée de Tonnerre, to create this authentic Chablis.
The vines are located right in the heart of the historic vineyard area. Various soil types, from the Kimmeridgian period: clay-loam texture, medium depth, on marl with oyster fossils. Some limestone.
Serve between 53-57°F, it must be aired or decanted before tasting. This Chablis reveals white fruit notes such as peach, and has a persistent mineral structure. In the mouth, a stony sensation which is so typical of Chablis makes this a round and pure wine.