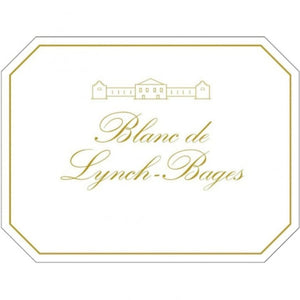 Bordeaux Futures 2021 estimated arrival Summer 2024
 Appellation: Bordeaux Blanc
Size: 750mL
Ratings:
94 James Suckling
"Bright and crunchy white with layers of gooseberries, fennel, lemon grass and sea shells. White peach, too. Medium-bodied, bright and driven with linear character. Stony and saline at the end. 79% sauvignon blanc, 15% semillon and 6% muscadelle."
91-93 Antonio Galloni for Vinous
"The 2021 Blanc de Lynch Bages is terrific. The move to increase the Sauvignon Blanc and decrease the Muscadelle yields a white endowed with notable energy and brightness, a style I personally like quite a bit."
91 Wine Advocate
"Already bottled, the 2021 Blanc de Lynch-Bages exhibits aromas of ripe grapefruit, musky peach and pastry cream. Medium to full-bodied, rich and fleshy, with lively acids and a saline finish, it's a blend of 79% Sauvignon Blanc, 15% Sémillon and 6% Muscadelle."

91 Decanter
"Such varietal Sauvignon Blanc aromas on the nose, freshly squeezed lemon, grass, elderflower, peach juice. So clear on the palate, crystalline purity with the richness coming a little from the Semillon on the mid palate. This has real austerity and minerality too in the sense of the salinity and wet stone notes that linger on the tongue, giving a slight cleanliness to the palate. Feels very precise - in high definition, each fruit and textural element sticking out with the floral nuances coming in towards the end. A direct style. Really excellent, it's taught and streamlined with these sharp lemon, green apple and grapefruit notes on the palate too, giving edges to the fruit while the overall lively acidity fills the mouth. Drinking Window: 2025 - 2039."

Important information to note:
Given the recent lifting of tariffs, 2021 Bordeaux Futures are offered assuming no charges due to tariffs.  Should tariffs be in place at the time the of importation into the US, added costs as a result of the tariffs will be the responsibility of the buyer.
Shipping charges will be calculated and added at the time of delivery in the summer of 2024.