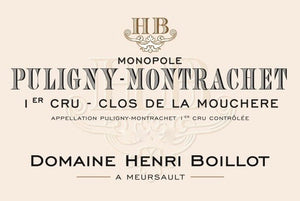 Pre-arrival.  Expected to arrive in Spring 2024
Appellation: Puligny-Montrachet 1er Cru
Size 750mL
Winemaker's Notes
Village of Origin: Burgundy – Côte de Beaune – Puligny-Montrachet Village. An enclosure within Les Perrières Premier Cru. 'Mouche' (or 'fly') is an old burgundian word for 'bee'.
Soil: Clay and Limestone
Aging: 60% in 350 l new oak barrels, the rest in single-vintage barrels.
Tasting Notes: White acacia blossom, lemon blossom. Mandarin and pink grapefruit aromas. Dense, rich, full-bodied on the palate. Full of energy, very complex. Very pyre with a slight salty finish. Superb minerality.