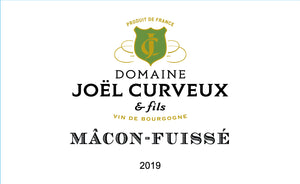 This wine is expected to arrive stateside in Feb 2021.  Wine will ship out once received.
Winemaker's Notes:

Handed down from father to son for four generations, Domaine Curveux is a small , family owned vineyard in Fuissé, right in the heart of the Pouilly – Fuissé appellation. Currently, the buisness is run by Joël Curveux and his son Guillaume. Located in southern Burgundy, their vineyards comprise 8 hectares of vines spanning the three villages of Fuissé.
Grapes are hand-picked. No destemming before pressing. Fermentation with selected yeasts in temperature-controlled stainless-steel tanks (malolactic depending on the acidity of the vintage)
Mâcon-Fuissé ages on the lees for 6 months in stainless-steel tanks.
Fining with bentonite (clay) and Kieselguhr (siliceous sedimentary rock) filtration.
The wine is pale yellow color with light green hues. Floral and citrusy nose. Round and crisp palate with notes of citrus bringing freshness. Keep for 3-4 years.