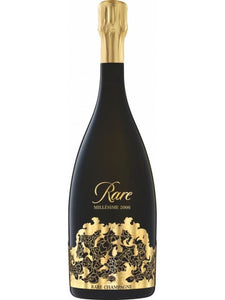 Wine Maker Notes:
Glows with an iridescent yellow-green gold. Delicate, dynamic bubbles glisten in this flaxen brilliance.
Offers a generous honeyed and oriental nose. The fragrances of crisp mango, cocoa, coffee, tropical fruits, lend the vintage a sophisticated vitality.
In the exceptionally long finish hints of mocha and cocoa confirm the fine Rare Millesime 2006's minerality. Dried apricots, sweet spices, citron lime, accents of crisp honeyed pastries and Espelette pepper envelop the palate.
Reviews:
97 Jeb Dunnuck
"The flagship release is the 2006 Champagne Rare, a 70/30 split of Chardonnay and Pinot Noir that's a cellar selection from 8 different Grand Cru vineyards. Tight, backward, and straight-up structured, it offers brilliant notes of stone fruits, toasted brioche, white flowers, and obvious minerality. Needing plenty of air to show at its best, this beauty has a wonderful mid-palate, a racy mousse, and the balance and class to cruise for over two decades in cool cellars. 97+"
96 Wine Spectator
"Aromas and flavors of toasted brioche and grilled nut enrich the yellow plum, nectarine and grated ginger notes of this rich and creamy Champagne. Finely woven and beautifully integrated, with a firm backbone of mouthwatering acidity providing precise balance for the lush range of flavor. (AN)"
94 Robert Parker's Wine Advocate
"
The 2006 Brut Cuvée Rare is a rich, gourmand rendition of this prestige bottling, unfurling in the glass with a complex bouquet that mingles aromas of yellow orchard fruit, pears and fresh pineapple with nuances of buttered toast, iodine and smoke. On the palate, the wine is full-bodied, broad and textural, while remaining fresh and surprisingly tight-knit at the core, concluding with a long and saline finish. There's sufficient structural tension here to promise more than a decade's graceful evolution, and although this is nicely balanced, it's a generous, sun kissed rendition of the Cuvée Rare that reflects the warm vintage."
93 Antonio Galloni for Vinous
"
Piper-Hiedsieck's 2006 Cuvée Rare is racy and polished to the core. Baked apple tart, apricot, lemon confit, vanillin and brioche infuse the 2006 with striking aromatic intensity and creaminess that builds with time in the glass. Sumptuous and forward, the 2006 offers tons of near and medium-term appeal."
Please note:
This wine comes in a beautiful gift box.  If local to us in Houston, Tx we will deliver with the box.  If needing shipped, the wine will be shipped without the box, unless prior request has been made to ship the box.  Please reach out to us to arrange if the box is desired.